Description
100 BILLION CFU, SHELF STABLE, 34 STRAINS: Our probiotic contains a shelf stable 100 BILLION CFU & 34 STRAINS per serving. We saw a need for high-quality supplements that actually work and stand by their claims, our probiotics comes with a MONEY BACK GUARANTEE. Professional grade NON-GMO vegan probiotics with NO: Binders, Soy, Gluten, Milk, Egg, Wheat, Peanuts, Shellfish, Additives, or Preservatives.

100% RAW LIVE ORGANIC PROBIOTICS, ORGANIC PREBIOTICS AND DIGESTIVE ENZYMES: Our probiotic is made with genuine prebiotics, digestive enzymes, and probiotics. A complete once daily probiotic supplement for ultimate digestive health naturally helps to support the free stomach digestive environment biotics condition, and supports the natural stomach balance.

SPECIALLY FORMULATED PROBIOTIC SUPPLEMENT: Our one-a-day whole food probiotic with digestive enzyme & prebiotic fiber is specially formulated for gut health.

ONE OF THE BEST PROBIOTICS FOR ADULTS WITH 34 STRAINS: Our prebiotics and probiotics are HIGH POTENCY and intended now for use by you a female and male adult. Acidophilus probio with pre-biotic pills including 34 symbiotic good strains, fungus, & absorb cultures. Lactobacillus acidophilus, casei, paracasei, salivarius, plantarum,  bacillus, bifidobacterium lactis, bifidum, longum, saccharomyces, fermentum, boulardii, and more see full ingredients below. Easier to take than powder, gummies, liquid, & pearls

ASSURED STANDARD OF QUALITY & SAFETY: Made in the USA in a FDA, UL, GMP certified registered facility labs. Probiotic for women, probiotic for men, probiotic for adults – Gives 100 Billion CFU – More than products of 3, 5, 10, 13, 15, 40, 45, 50, 60, 70, 80 Billion CFU! Shelf stable non refrigerated platinum pro-bio-tic, pure no refrigeration pro-biotics, Lactobacillus acidophilus, ultra vegetarian probotics activated hyperbiotics supplement assist advantage.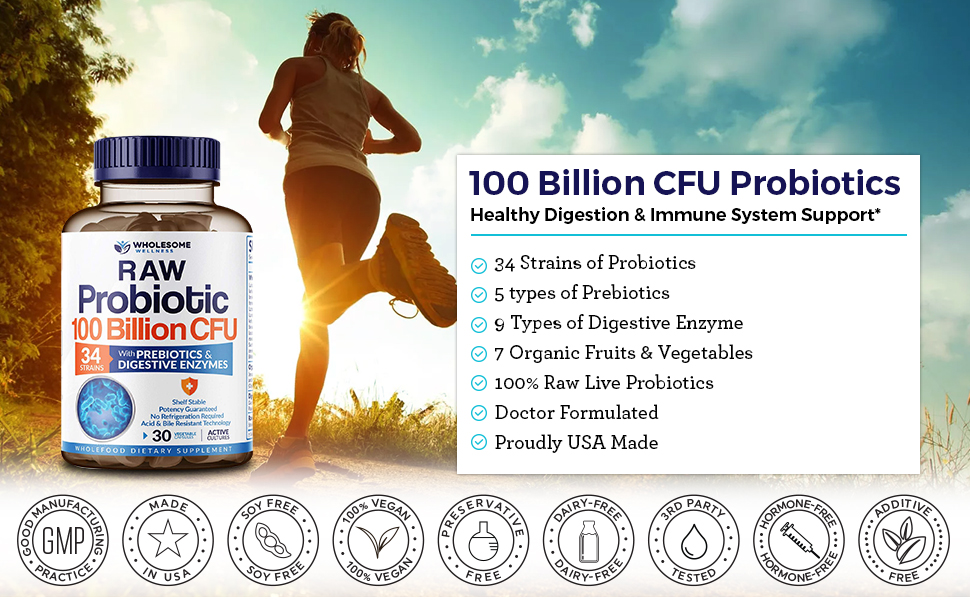 OUR CRAFTSMANSHIP IN BOTTLE EFFICACY
SHELF-STABLE & NO REFRIGERATION REQUIRED
Our raw probiotics are shelf-stable and require no refrigeration. Certain strains of probiotics are used as stabilizing ingredients, making the product shelf-stable and removes the need for refrigeration.
SHELF LIFE
Our raw live probiotics contains strains that enable it to have a more stable shelf life, and makes it better suited to withstand environmental factors, while also enabling it to have greater potency when consumed.
EASY TO TAKE – ONCE PER DAY
Probiotics are meant to be taken orally on a daily recurring basis. This formula works best on a cumulative basis over time to support overall digestive health and immune function.
PROUDLY USA MADE:
With only the highest standards of practice in mind, our product is manufactured right here in the USA.
NON-GMO AND VEGAN:
We believe that natural is safe and that natural is better. As such, our process includes using ingredients that are not in any way genetically modified. All components of our product is made from natural and organic substances that are safe and effective. It is also vegan safe and makes use of no animal by-products.
A MESSAGE FROM THE WHOLESOME WELLNESS TEAM
When it comes to "living healthy," don't let nervous butterflies in your stomach stop you from trying endless possibilities. That's because the quest for "a happy and healthy life" comes in various shapes and sizes. It is said that our understanding of what a healthy body and mind feels like stem from our very own experiences. So, give yourself a chance to forge your own narrative and anchor this belief in evaluating what healthy living feels like for you!