Description
ENHANCED ALL-IN-ONE BONE BROTH COLLAGEN PEPTIDES POWDER: Your Collagen needs are covered with this all-in-one, ultra premium bone broth, super absorbent medical grade collagen powder supplement with a high-quality, potent, blend of grass-fed beef, chicken, certified wild fish, and eggshell membrane collagen providing collagen types I, II, III, V and X.

REJUVENATES, REVITALIZES, & SUPPORTS*: healthy skin, hair, nails, teeth, gums, joints, tendons, ligaments, muscles, restful sleep, positive hormone balance, weight loss, cellulite reduction

VALUES: Made in USA / GMP Manufactured / 3rd Party Lab Tested for Purity & Potency / 100% Hydrolyzed / Grass-Fed Beef / Certified Wild Fish / Organic / Gluten-Free / Clinically Studied Ingredients / GMO-Free / Raw / Peanut-Free / Dairy-Free / Soy-Free / Herbicide-Free / Pesticide-Free / Paleo approved. Easy and convenient to take.

STILL NOT SURE? DON'T WORRY! – As a small family business, we fully understand the uncertainty and risk of trying new supplements products. This, together with our confidence that you will be happy with our Multi Collagen Capsules, we offer you a Full 100% Money Back Guarantee, no questions asked. Try risk-free!

Net Powder Weight: 454g (16oz)
Our mission is to deliver high-quality supplements that will restore health and vitality to the modernized world. As a small family business, it is our responsibility to help support the health, well-being, and healing of our customers. We are a highly researched, purpose-driven team, who sets the highest standard for our products by delivering outstanding value and continuous innovation. After all, our purpose is to nourish the people and the planet, beginning with our own family and friends, from one bottle to the next.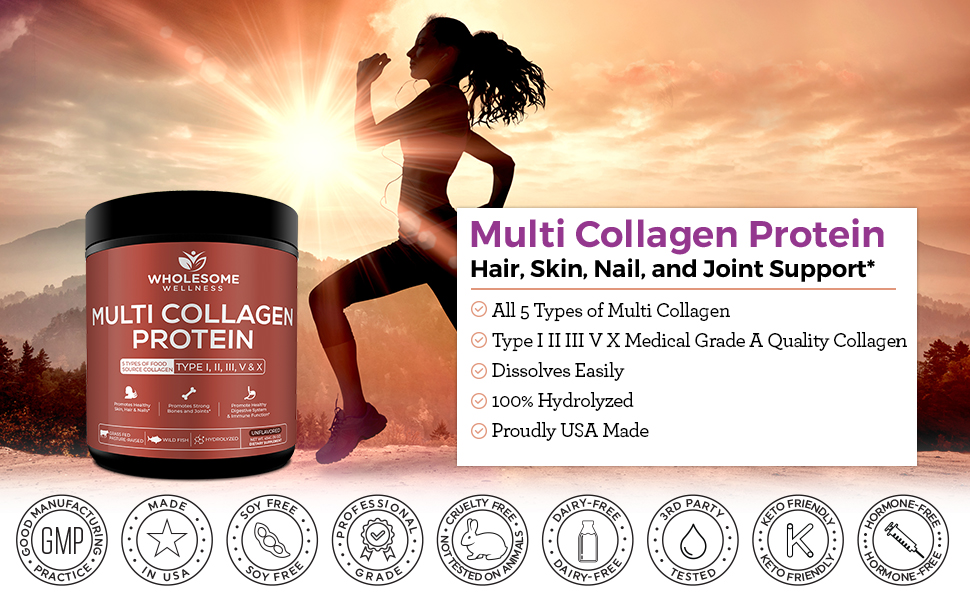 Collagen is the most abundant, naturally occurring protein found in the human body and is the building foundation for your cells and connective tissues, making it necessary for healthy hair, skin, nail, muscles, bones, joints, tendons and ligaments. You can think of collagen as the "glue" that holds all these things together. As we age, the body's supply of collagen naturally depletes, and modern diets are less abundant in collagen, which can lead to familiar aches, saggy skin, wrinkles, digestive issues as well as stiffness in the bones and joints. This all leads to common signs of aging but this is where our unique Multi-Collagen Protein formula comes in and may help fight* and reverse* these common every-day problems.
Our powder contains 100% hydrolyzed collagen which allows larger protein amino acids/molecules to be converted into smaller units that are easily absorbed by the human body. We ensure our collagen has no additives, no smell, and will mix easily into coffee, smoothies, oatmeal, soups, sauces or anything you'd like.
| | | |
| --- | --- | --- |
| Reverse aging by reducing the formation of wrinkles*, eliminating dry skin* and improving skin elasticity*. Collagen is also one of the major proteins found in our nail beds. Lack of Collagen causes brittle and discolored nails that break easily. It may also strengthen hair growth*, hair density*, and prevent hair thinning* associated with aging! | Bone and joint functions are an important part of daily life. Collagen may help stimulate cartilage growth* that may help lower inflammation* and supports creaky joints and weaker bones* associated with aging. Start taking collagen to ensure strong and healthy bones today! | Our collagen may help improve energy levels*, metabolism*, digestive health*, or promote muscle repair & recovery* after a workout. The amino acids in the product further provides protein for the body during and after exercise. Start feeling more alive and energized today! |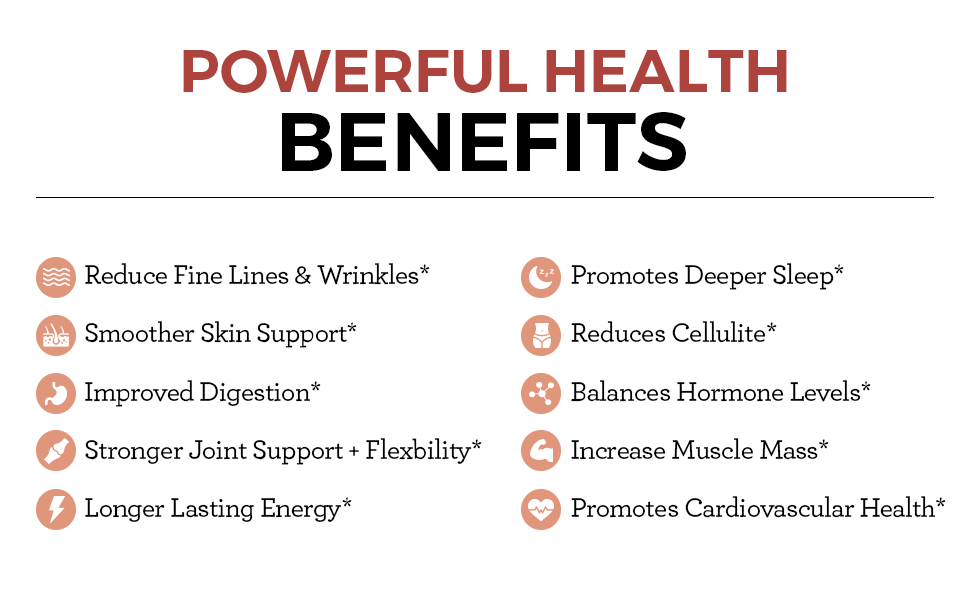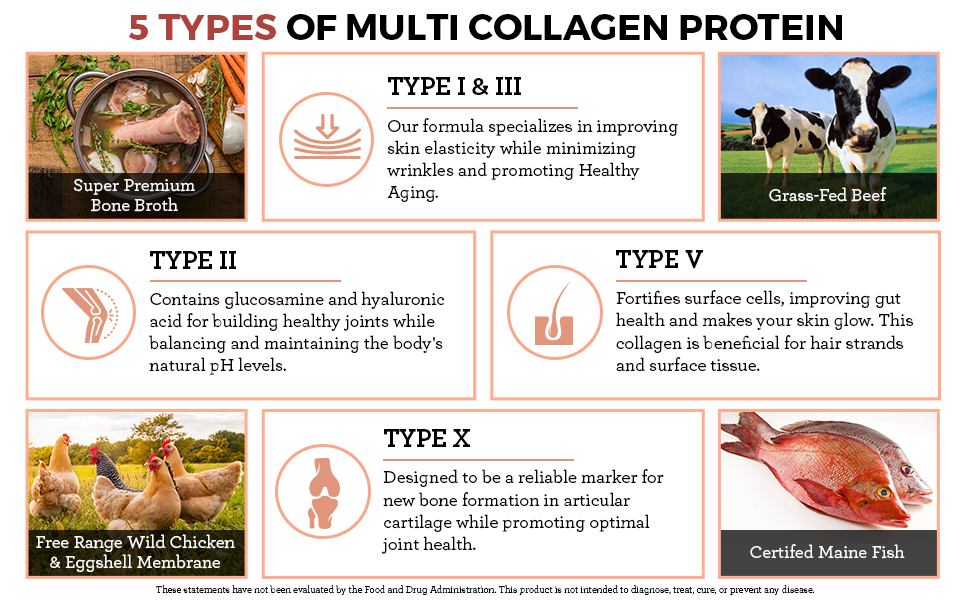 Use Our Multi Collagen Protein Powder in a Variety of Different Ways:
Stir into 

Water

, 

Fruit Juice

, or other 

Drinks Hot or Cold

Add to 

Smoothies 

as a Protein Booster
Stir into 

Oatmeal

, 

Soups 

or 

Sauces

Cook 

it with your 

Favorite Recipes

Bake 

it with your 

cookies 

or 

bread

, or anything you'd like
Our Multi-Collagen Protein Powder will help Rejuvenate your body one scoop at a time.
Top Amazon Reviews

Reviewed in the United States on June 29, 2019
Verified Purchase
I love going to the park, it makes me happy to see my children having fun with themselves and with other kids playing ball or tag me. But lately, I've not been able to go with them although I live just 4 blocks down below. My arthritis seemed to have gotten worse since I had early retirement this year. After weeks when I wasn't able to come by, my friend paid me a visit and recommended this container of collagen which he said would do me good in no time at all. Placed the order right away! He was right, it was no time at all at 3 weeks! I mean, in comparison to the topical cream I had been using for more than a month that did me no good. Yes, 3 weeks of using the powder and mixing it to beverage and already I was able to come around. Is that short? I mean, I had no idea how this supplement was supposed to take effect on how long. All I know was that, now my knees have gotten steady and was able to get rid of the swelling. Then, I got to feel bloated a lot less which before was making me burp a lot. Just been out with the boys earlier today and they had so much nibbling on the candies I got them! And oh, I find it really curious that this powder seemed to be making my hair grow faster, too which is making me excited! I mean, I love wearing my hair in beehive and with this, it won't probably take long before I am able to do that. If 3 weeks of using it gave me about 2 inches of growth, I can't imagine the additional length it would do me in 6 months! I am happy what this product has done for me. Now I am also able to bend down and tend to flowers in the garden, with my knee issues completely gone. This is a good product and I will continue using it.

Reviewed in the United States on February 11, 2020
Verified Purchase
I use collagen for its skin and gut health benefits and typically purchase from Great Lake. I like the Wholesome Wellness brand collagen due it mixing well without leaving but a little bit of clumps. The Great Lake brand does not dissolve as well. I found them both to be similar in taste which is very mild in water and can't tell with mixed in drinks or soups. In the photos I provided, you can see how it dissolves in water with no product settling to the bottom. It took about 2 mins for all the air bubbles mostly go away.
I mix collagen in my green smoothies, tea, pedialyte, and soups.

Reviewed in the United States on August 6, 2019
Verified Purchase
My husband purchased this product because it came highly recommended from a friend of ours who's practically a "veteran" when it comes to stuff like this, plus all of the great reviews here on Amazon sealed the deal for us. We're part of a small group of friends who regularly take collagen as part of our health regimen and we've all been using different brands until we changed to this one just recently. Unlike collagen neophytes, my husband and I know what to look for so when we read the ingredients and what this collagen can do, we were just shocked because this might be the most potent and most effective multi-collagen available right now. Not gonna lie but it has everything that we're looking for including a higher overall dosage compared to other brands! We also love the fact that a lot of research went into the development of this multi-collagen product because it has all of the "best" types of collagen including Type I, II, III, V and X which are all very beneficial to the human body. Based on our personal experience, however, is that this product exceeds its competitors in terms of what we consider as the benefits that we derive from each dosage.
We both wake up every morning energized, we come home feeling great as if we just took a great nap and our ability to focus seems to come from the product's superior mixture. On the other hand, I also appreciate the fact that I absolutely look better! My hair looks great and as if I de-aged by 5 years or so! My husband's been telling me that I've never looked this radiant and continues to look more beautiful with each passing day.
I also noticed that my husband seem to be growing much thicker hair on his scalp. This is a big deal because balding runs in their family and I have noticed a bit of thinning on his hair recently but now his head's as thick as a teenager's and it doesn't seem like he'll go bald anytime soon.
This is well worth our money and I think I'll have some sent over to our kid studying at Berkeley so she doesn't stress herself out too much, and I think this will be a big help considering what a huge relief and assistance this product was to us.