Description
HIGHEST QUALITY  DESICCATED BEEF LIVER: Pasture raised in New Zealand, grassfed and grass-finished, undefatted, hormone-free, pesticide-free, GMO-free. 100% ULTRA PURE means no fillers, no flow agents and no magnesium stearate. 100% FREEZE DRIED to optimally preserve heat sensitive nutrients, co-factors and biological activity.

NUTRITIONALLY DENSE SUPER FOOD: Very high in preformed Vitamin A, B12 for energy, proteins, peptides, CoQ10, Choline, Folate, Hyaluronic Acid and Bio-Available Heme Iron. Provides all the fat soluble vitamins (A, D, K & E) in highly usable forms, and meaningful amounts of copper, zinc and chromium.

NOURISH YOUR WAY TO HEALTH: For healthy teeth, gums, skin and hair. Supports energy, mood, metabolism and methylation. For strong joints, connective tissue and healthy collagen. Supports heart, brain, blood, and liver health. Supports a strong immune system and glutathione status (the body's master antioxidant).

WHOLE FOOD SUPPLEMENT: Get the advanced nourishment that only whole foods (and whole food supplements) can provide. Get all the co-factors, nutrient synergy and biological activity that makes liver so amazing for you. Paleo Friendly… Primal Friendly… Ketogenic Friendly… Support vital high energy bulk demands for an active liquid lifestyle.

STILL NOT SURE? DON'T WORRY! – As a small family business, we fully understand the uncertainty and risk of trying new supplements products. This, together with our confidence that you will be happy with our Beef Liver Pills, we offer you a Full 100% Money Back Satisfaction Guarantee, no questions asked. Try risk-free!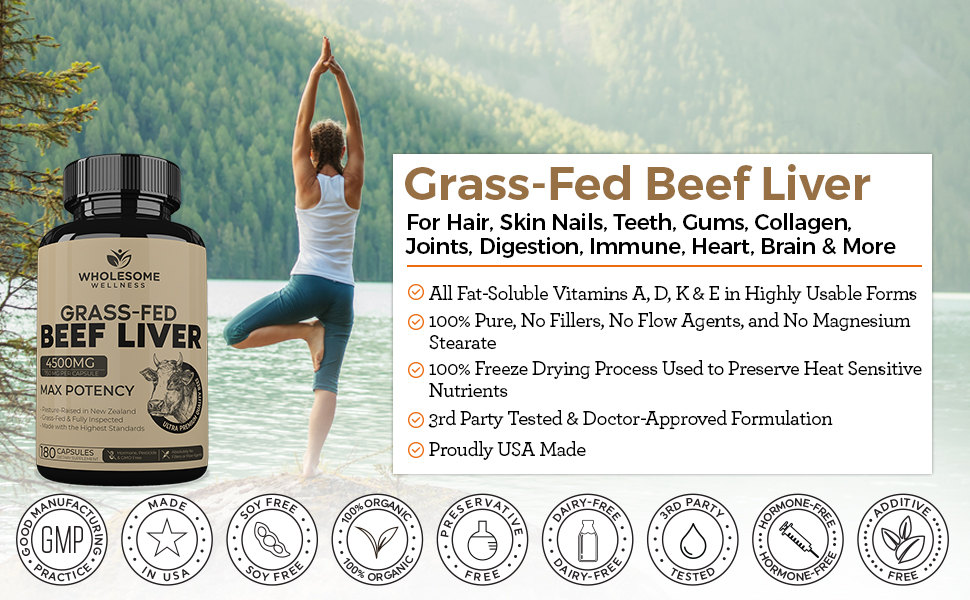 Powering Your Body With Nutrient-Dense Superfood
For centuries, we humans depended on nature's resources to fulfill the demands of life. From the food we eat to the air we breathe — our lives revolve around the human-nature relationship we've established to maintain a healthy and happy lifestyle. Modern life biddings, however, caught us slipping away from a life of vigor and vitality. Our nutritional consumption fails to meet our bodies' dietary needs to live a life that is health-giving.
Beef liver is a nutritional powerhouse packed with essential vitamins and minerals that can supply more than your daily dietary requirement. It is recognized as one of the most nutrient-dense foods in existence, worthy of the title "Superfood." An ounce of beef liver supercharges your body with large amounts of vitamin A, B12, C, , zinc, copper, iron, protein and more.
With the advancement of technology, we have found a way for us to consume this "Superfood" without eating it in its true form, this has allowed us to create a capsule version of this wonderful product without losing any of its nutrients.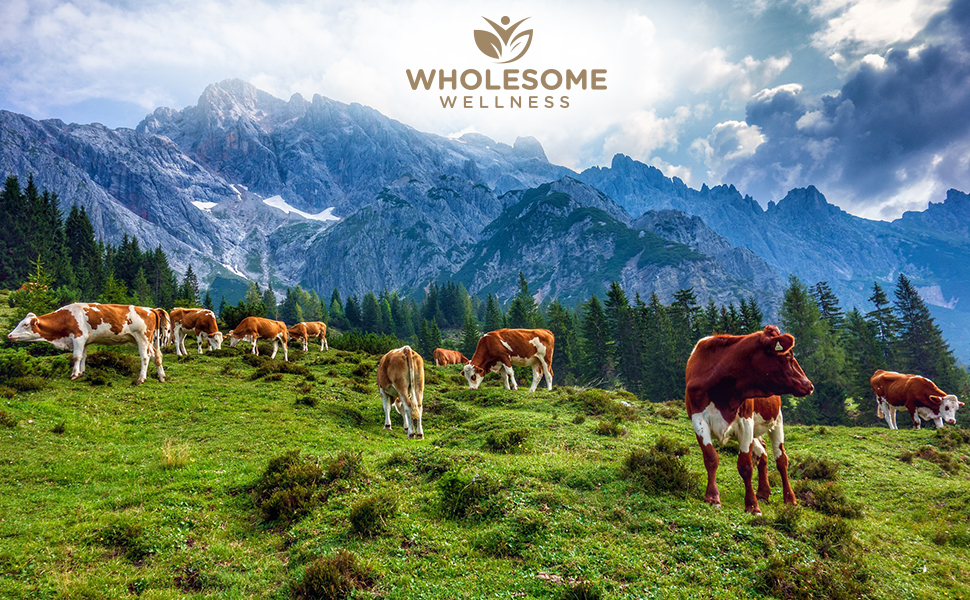 The Blueprint Of Our Beef Liver Excellence
We sourced our product (nose to tail) from New Zealand to promise the most organic livestock production — from pasture-raising the cows to freeze-drying to ensure top-notch preservation of nutrients. Our partners adhere to global standards of raising the livestock, taking into account the importance of raising the cows in a green pasture. We ensure that the livestock is grass-fed, receive plenty of sunlight, and, most importantly, without pesticides, hormones, or antibiotics to ensure you get 100% natural whole food supplements to nourish your body.
OUR MANUFACTURING PROCESS
We're confident about the upbringing of our product from start to finish. Since our mission focuses on providing you nature's treasured food source, we strive to maintain quality and ensure you're getting the nutritional needs organically.
● All cows used in manufacturing are 100% grass-fed and raised in a green pasture, without the use of pesticides, hormones, or antibiotics that could pose detrimental effects in your body. Our livestock is closely monitored by New Zealand's leading biosecurity system to ensure quality raw ingredients in manufacturing.
● We freeze-dry all meat to preserve its color, nutrients, and aroma to ensure the balance of nutrients remains uncompromised and to deliver the same nourishment that nature provided.
● NO ADDITIVES. We make sure that you receive 100% natural ultra pure components — we eliminated the use of stearates, lubricants, binders, fillers, or flow agents in the manufacturing process.
● Our products pass through mandatory licensing, auditing, and certification to ensure confidence in use.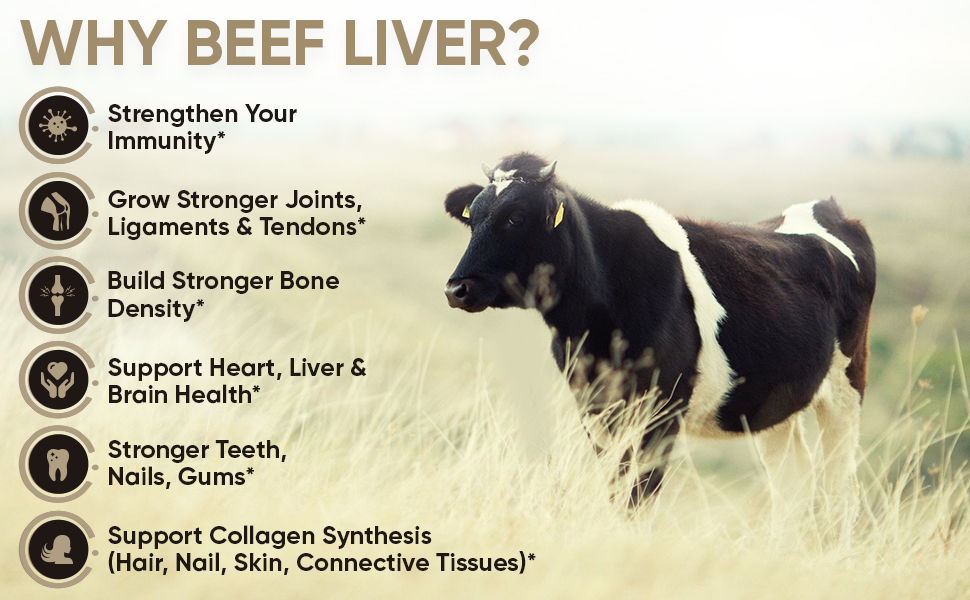 The Health Benefits That Awaits You
Beef liver supplements introduce an innovative way of keeping your body vibrant. Most people tend to look to fruits and vegetables to supply the body's need for essential vitamins and minerals. Although there's nothing entirely wrong with that, the diet might be insufficient in terms of nutrient content.
IMPROVE YOUR BODY'S RESISTANCE
Beef liver is a good source of vitamin B12 (including other types of vitamin Bs), A, folic acid, zinc, copper, and selenium — the necessary vitamins and minerals to support immunity at a cellular level to combat free radicals.
BUILD STRONGER JOINTS, LIGAMENTS AND TENDONS
The proper nourishment of your joints, ligaments, and tendons is essential to improve its strength and flexibility. Beef liver supplements are rich in protein, which in turn produces collagen and elastin, which helps in keeping your tendons and ligaments strong. Aside from that, it also provides other essential vitamins and minerals needed for the development of stronger joints, ligaments, and tendons such as vitamin C, A, E, and calcium.
STRONGER TEETH, NAILS AND GUMS
Beef liver supplements can help support the strong development of teeth, nails, and gums by providing the essential nutritional building blocks for dental health. Vitamins and minerals like calcium, vitamins D, C, A, K, potassium, and phosphorus.
STRENGTHENS BONE DENSITY
Beef liver is rich in vitamins and minerals that keep the bones healthy, such as calcium, vitamin D, and K2.
BETTER KIDNEY AND LIVER PERFORMANCE
Your Kidneys and Liver require necessary vitamins and minerals to maintain its good performance, alongside keeping a balanced diet and healthy lifestyle. Your beef liver supplement provides a significant amount of vitamins A, D, E, iron, and renal vitamins that help ensure your body functions properly and remove toxic waste substances from the body.
ENERGY METABOLISM
There are five essential vitamins and minerals needed to boost energy metabolism: vitamins B, D, calcium, iron, and magnesium. Beef liver supplements provide a substantial amount of these vitamins and minerals to ensure your body breaks down food and nutrients better.
SUPPORT COLLAGEN SYNTHESIS
Liver meats have the highest concentration of vitamin C. Its antioxidant properties, the ascorbic acid, supports collagen synthesis that helps with skin health, muscle mass, reducing bone loss, and lessening joint pain.
LONGER LASTING ENERGY LEVELS
With large amounts of B vitamins and iron, you'll have longer-lasting energy levels. B vitamins, particularly B12, helps in transforming food into energy that cells can use. At the same time, it keeps your body's nerves and cells healthy, preventing issues that can make you feel weak and tired. Iron, on the other hand, boosts your body to make hemoglobin to carry oxygen to the body's tissues effectively.
MOOD ENHANCEMENT
Research proves that vitamins and minerals such as calcium, folate, iron, omega-3 fatty acids, zinc, and vitamins B6, B12, and D help in combating anxiety and promote long-term happiness.
SUPPORTS BALANCED METHYLATION (GENE EXPRESSION)
Methylation is an essential biological process that happens in every cell in the body. It is involved in many activities such as the nervous, cardiovascular, and immune system activity, as well as in energy production, detoxification, and DNA repair. In the context of methylation, it should be balanced to help our body operate mentally and physically. Beef liver is a good source for methylation nutrients to ensure optimal function.
SUPPORT HEART, LIVER AND BRAIN HEALTH
Beef liver supplements provide an abundant amount of Omega-3 fatty acids, B vitamins, and vitamins A, D, and E — the essential vitamins and minerals needed to keep your heart, brain, and liver healthy, respectively. A 3 ½ ounces of beef liver provides 609 milligrams of Omega-3 fatty acids, which is good to reduce triglycerides (a type of fat) in your heart. B vitamins like B6, B9, and B12 keeps your brain healthy by breaking down homocysteine and produce the energy needed to develop new brain cells. Meanwhile, vitamins A, D, and E help in preventing dysfunction in your liver to ensure a better break down of foods and nutrients to distribute energy to your other organs.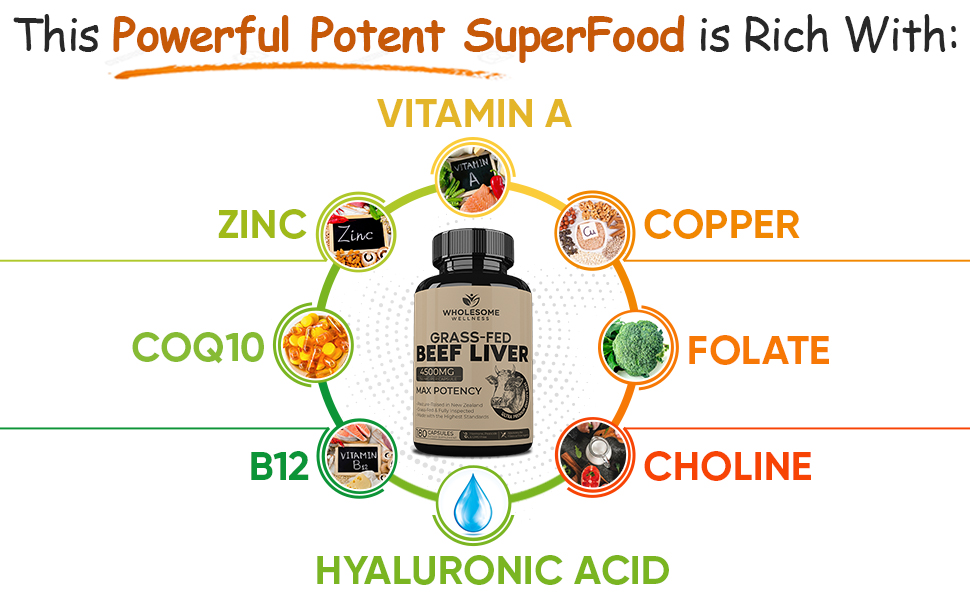 The Expertise Behind Every Bottle
Liver sourced from pasture-raised, and grass-fed cows are 100% safe to consume. Research proves that the liver is a nutrient-dense organ meat that packs essential vitamins and minerals that are good in the body. There's a misconception that meat liver contains toxins. This is a false claim. The liver does not store toxins; instead, it filters these toxins and expels it via urine. We promise that the consumption of meat liver from healthy animals is safe and nutritious.
100% PURE, NO FILLERS OR FLOW AGENTS
Our products are manufactured purely, without any fillers or flow agents to preserve its formula, color, and taste. We aim to supercharge your body the natural way.
INSTRUCTIONS
Take 4-6 capsules per day or as directed by a healthcare professional.
NO MAGNESIUM STEARATE
Magnesium stearate has a laxative effect if ingested too much. It irritates the mucosal lining or causes intestinal spasms. We promise that our product is made 100% organically without any chemicals that could endanger your health.
NON-GMO
We believe that natural is safe and that natural is better. As such, our process includes using ingredients that are not in any way genetically modified. All components of our product is made from natural and organic substances that are safe and effective.
PROUDLY USA MADE
With only the highest standards of practice in mind, our product is manufactured right here in the USA. Our facilities are in compliance with all applicable good manufacturing practices and regulations. The strictest quality control and guidelines are followed as we perform rigorous testing on each lot to ensure safety and effectiveness.
NO TASTE & NO SMELL – Like many of us, if you can't stomach the taste of liver, no problem! our beef liver capsules are virtually taste/odorless
A MESSAGE FROM THE WHOLESOME WELLNESS TEAM
Keeping up with your nutritional intake is the best and most effective way to prevent issues. Like most people would say, it is our actions today that plots the conclusion of our story. Therefore, to live a vibrant and fulfilling life, don't hold back with what keeps your body healthy and capable. You see, nature has crafty ways to help you achieve your goals. All you have to do is look and experience its power.